A vanity made with GFRC.
Buddy Rhodes Concrete Products
Glass fiber reinforced concrete (GFRC) has a long history of use in building facades and was originally developed for its superior performance in seismic areas. The decorative concrete industry has embraced it not only for its strength, but also for the versatility it offers to create texture, color and shape otherwise not possible with traditional precast.
The basic principles of the GFRC are simple. Typical mix designs use a cement-rich mix, combining one part cement with one part graded dry sand. With the addition of water, curing polymer and fiberglass for reinforcement, GFRC is typically cast at a thickness of 0.75″ to 1″. Mixes can be modified for spray applications or plasticized with a water reducer to create self-consolidating concrete.
Materials, Simplified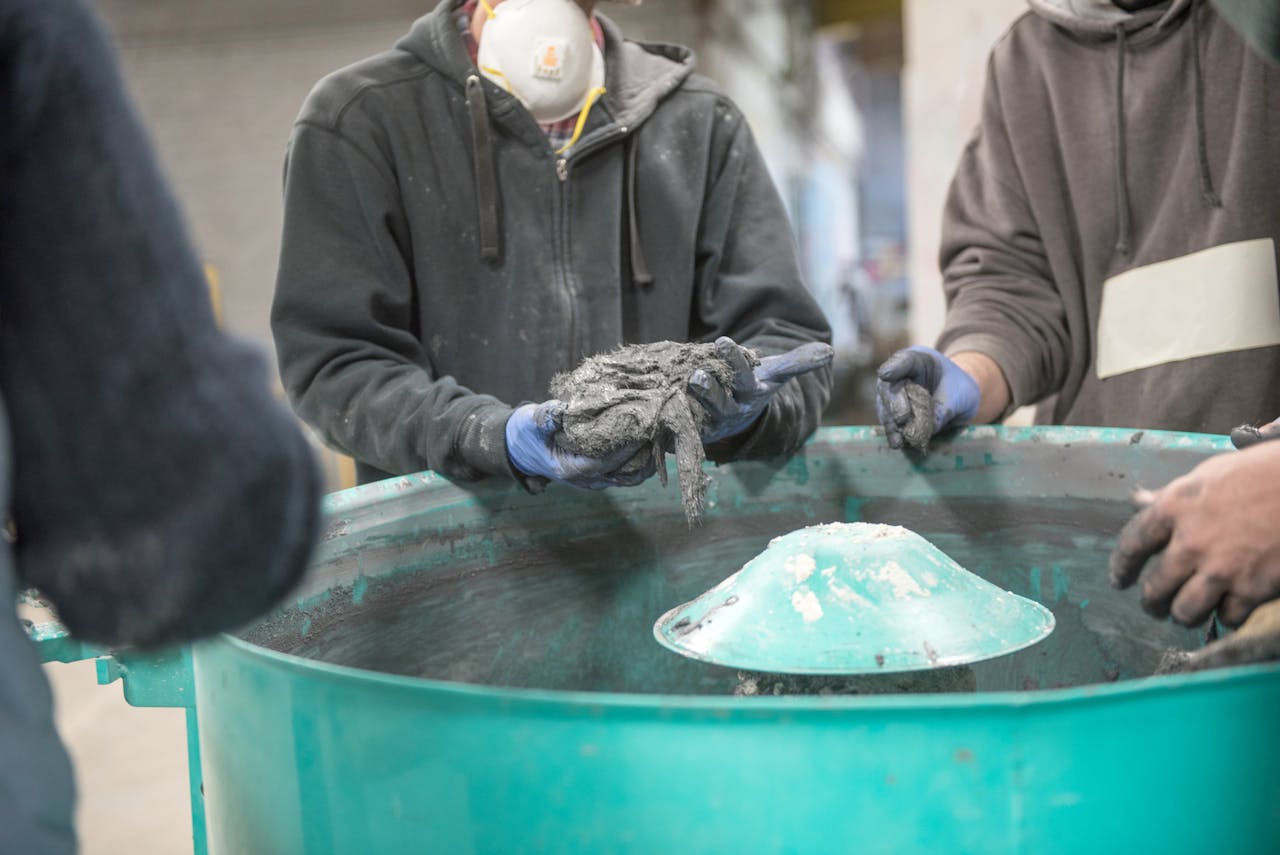 Buddy Rhodes Concrete ProductsAs one of the pioneers of the decorative concrete industry, Buddy Rhodes Concrete Products has developed easy-to-use materials for the concrete professional. Here is what you will need for a typical GFRC project:
A GFRC mixture consisting of cement, sand, dry-curing polymer and admixtures. For example, Buddy Rhodes GFRC Blended Mix already contains the proper ingredients and high performance admixtures for making fine, lightweight concrete or any GFRC project.
Chopped 3/4″ long alkali resistant (AR) glass fibers are added separately to provide critical flex and tensile strength.
AR Glass Fiber Scrim is a woven fabric that can also be added for additional targeted reinforcement.
A super plasticizer/water reducer can be added as a wetting agent to reduce water content, improving ultimate strength.
First, the formwork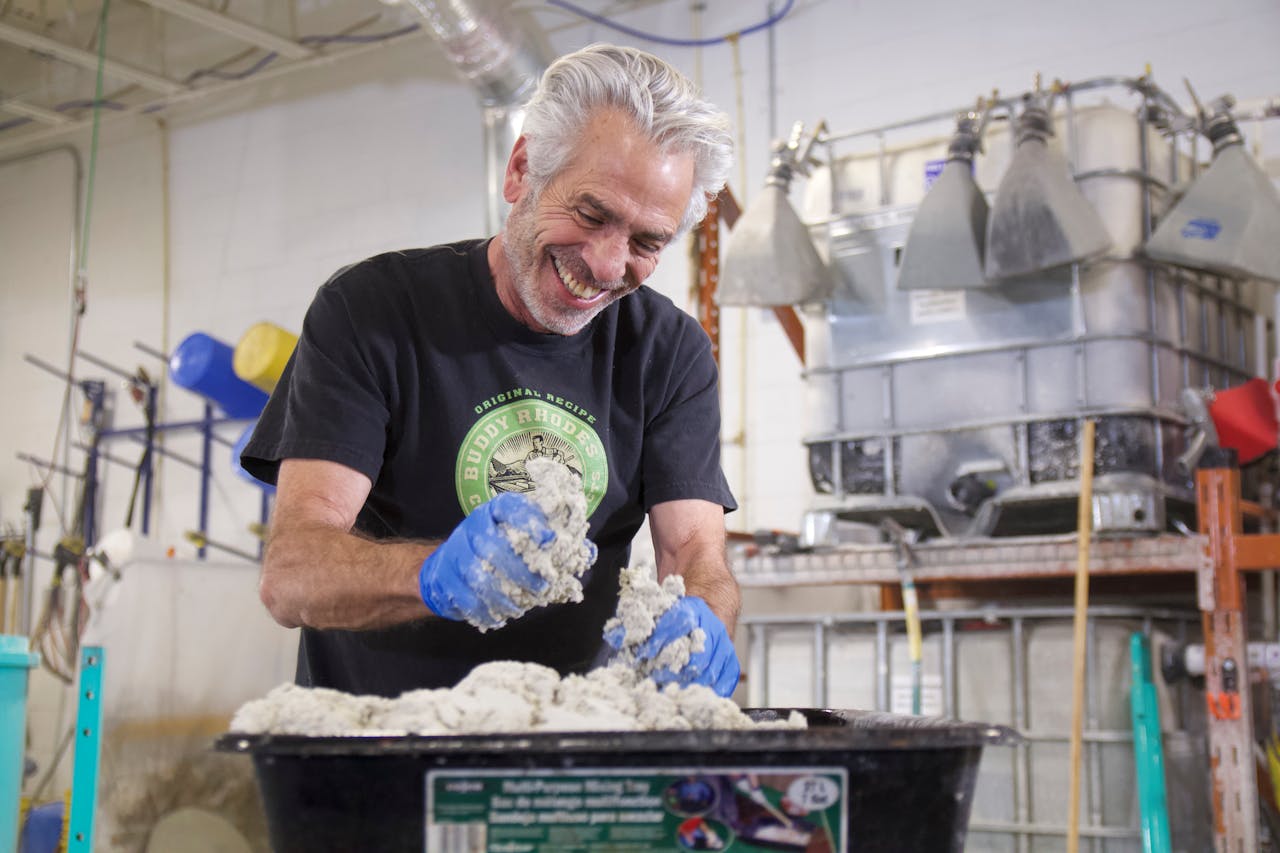 Buddy Rhodes Concrete ProductsFormwork for GFRC must be non-porous, with tight joints. Melamine-faced particleboard or laminates are a common choice for large, flat surfaces. Flexible urethane or silicone rubber molds are also a good option, ideal for complex parts or production molds that can be poured over and over again.
Moulding: the spraying technique with a base mixture applied by hand
The GFRC spraying technique is performed in two steps: a surface layer (face/fog layer) without fibers, followed by a structural layer (carrier mix) containing AR glass fibers. There are no fibers used in the surface coating mix because you don't want the finished surface to show fibers. Start by adding 1 gallon of water and 2 oz of water reducer to a 17.5 gallon bucket. Slowly add a 50 lb. bag of GFRC Blended Mix and mix thoroughly with a hand mortar mixer with a high viscosity paddle. Allow the mixture to sit for 10 minutes to "false play", then remix, adding water reducer if necessary to achieve the correct consistency.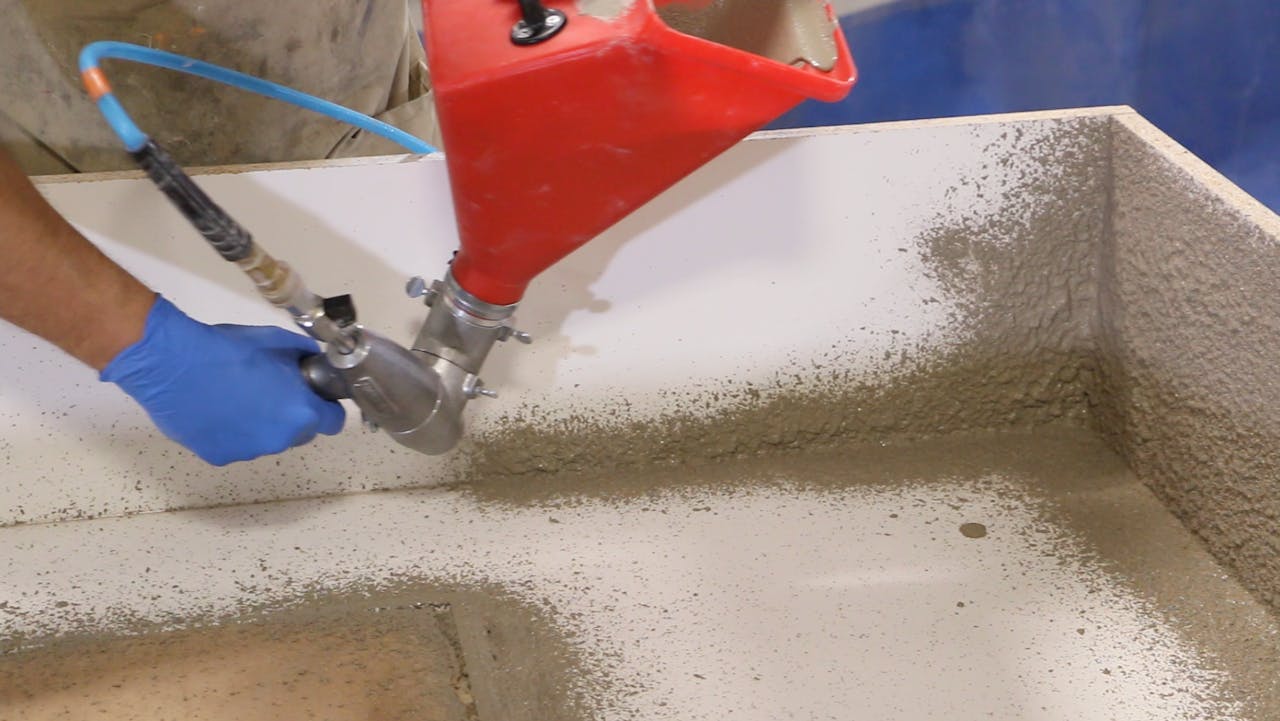 Buddy Rhodes Concrete Products
Pour the mixture into a drywall hopper gun for spraying. Your spray should come out of the gun like a wet splatter. This crucial first layer creates the surface detail of the mold and should be approximately 1/8″ thick. Using a bristle brush, brush the surface layer into the mold to drive out any air pockets. , especially in the corners and edges of the form to consolidate the mixture.
Once the face coat is sprayed on, start mixing the back coat. Timing is important – you don't want the backing layer completely dry or the backing layer not sticking properly. Ideally, you want the facecoat mixture to start to stiffen up so the carrier layer doesn't penetrate while still getting good adhesion between the face and carrier layers. For the support mix, mix more material exactly as was done for the face mix. Towards the end of the mixing process, add 1.5 lbs. of AR fiberglass for every 50 lbs. of mixed concrete. Slowly mix the AR fibers while reducing the rpm of the mixer – mixing the fibers too vigorously will break down their structural integrity. Layer it behind your face coat. Total thickness depends on the size of the project, but 1″ thickness is typical. You can make a thin mixture that pours over the face layer, or you can make a thicker mixture that is applied by hand. A thicker mix is ​​especially useful for vertical walls.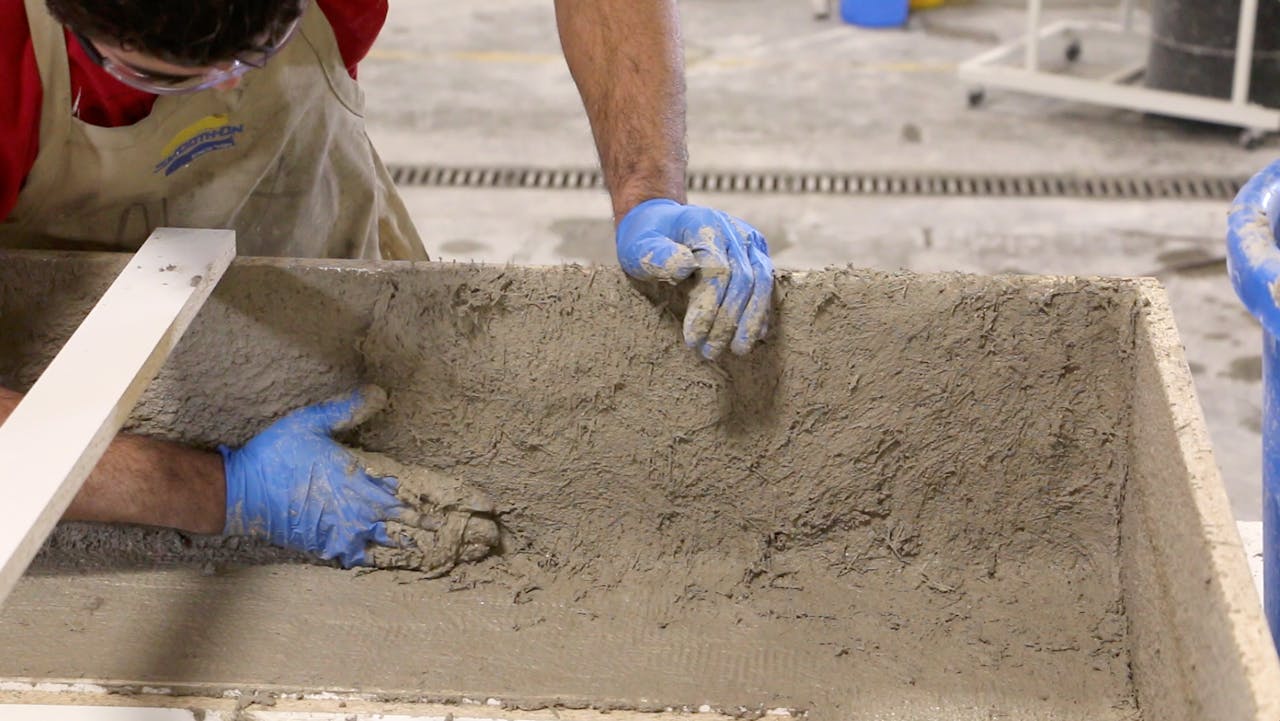 Buddy Rhodes Concrete Products
It is recommended to trowel the back of the piece, especially if it is to rest or butt against a flat surface. It is not necessary to be perfect on the back of the piece since the back will not be visible, but it is important to have a flat and smooth surface for installation. Once all the concrete is placed, cover with a plastic sheet and let cure for at least 16 hours at room temperature (73 degrees F / 23 degrees C).
Once the piece is unmolded, fill the bug holes with a color-matched paste, buff lightly with 200-grit diamond pads, and seal before installation. The same GFRC blended mix can be used when making more traditional finishes like polished and hard troweled cast-in-place concrete. It is also a great starter mix design for wet pour mixes. Add up to 25 lbs. of 3/8″ aggregate or similar to increase yield and reduce shrinkage.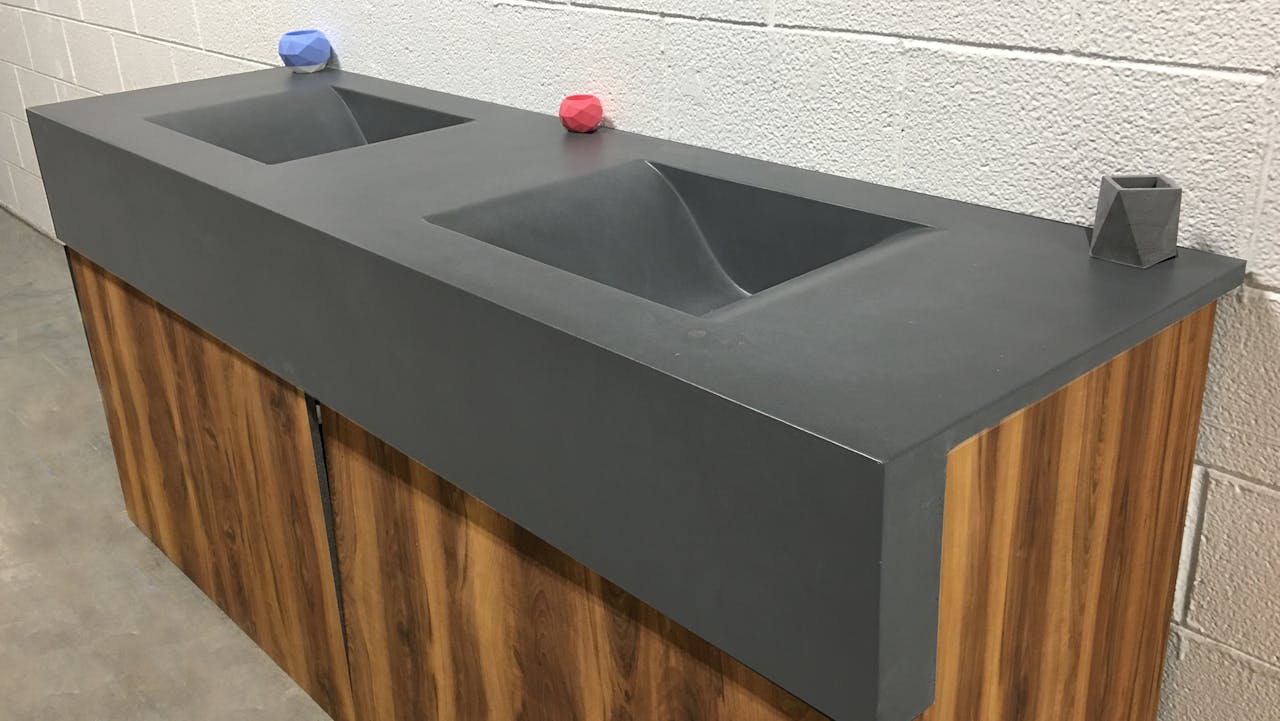 A vanity made with GFRC.Buddy Rhodes Concrete Products
Buddy Rhodes Concrete Products offers a diverse range of materials beyond GFRC blended mix. Create ultra-thin, high-performance concrete with our ECC Blended Mix. Try the classic Buddy Rhodes Signature Pressed finish using Craftsman Mix. Or create lightweight rocks, sculptures and themed environments with Buddy Rhodes Vertical Mix. They also offer over 400 concrete pigments, topical glazes, sealers and other accessory products for any craft concrete project. Find how-to videos, technical support and more on their website: www.buddyrhodes.com.