Humanitarian, hero and three-time world heavyweight champion, Muhammad Ali once said, "Service to others is the rent you pay for your room here on earth. Revered for his accomplishments in the ring and loved around the world for his quick wit and big heart outside, Ali's legacy is that of The People's Champion.
David Edwards also loves a challenge and relishes the chance to give back. As co-owner of Edwards Concrete Bomanite of Winter Garden, Florida, Edwards has been in the concrete business for over 40 years. His company specializes in decorative concrete applications and between the heat and humidity and Florida's often harsh ground conditions, every job in his company seems to have a few challenges.
Edwards Concrete Bomanite"We manufacture stamped concrete, exposed aggregate, polished, colored and tinted concrete," says Edwards, who has been a Bomanite licensed contractor since 1989. His team of approximately 25 people designs decorative concrete solutions in the center of the Florida for four decades. to theme parks, commercial contractors and public institutions of all kinds and sizes. "We don't shy away from doing tough work, and although I wear a lot of hats, I really like to take an interest in the design of the work."
Overcoming COVID-19 in a beautiful way
When COVID-19 shattered the world's sense of normalcy in early 2020, Edwards was inspired to make a meaningful contribution to his community and quickly harnessed his team's talents to bring a little happiness into the lives of others. .
"My wife and I grew up in Ocoee, Florida, and have lived here our entire lives," Edwards explains. "When the pandemic hit, we wanted to do something for the local healthcare workers who were putting their lives on the line for the people in this community."
Edwards first contacted Mayor Rusty Johnson about a charitable donation project he had in mind for Orlando Health – Central Hospital in Ocoee, Florida. Once the seed was planted, Edwards and his team quickly devised a way to brighten up the entrance to the building with a decorative sign of appreciation. In a group effort, Edwards secured material donations from its longtime local suppliers of ready-mixed concrete, lumber, and ironwork to assemble the necessary resources.
The result is a beautiful patio garden next to the building's staff entrance where healthcare workers can enjoy a moment of respite from the rigors inside. A bold blue heart of Bomanite exposed aggregate concrete in a glass finish is surrounded by Portland cement blocks seeded with mother of pearl flakes and white granite. Strips of artificial grass segment the concrete sections to make the entire patio a refreshing pop of bright color that provides a warm welcome and calm, quiet respite to the hospital's healthcare workers.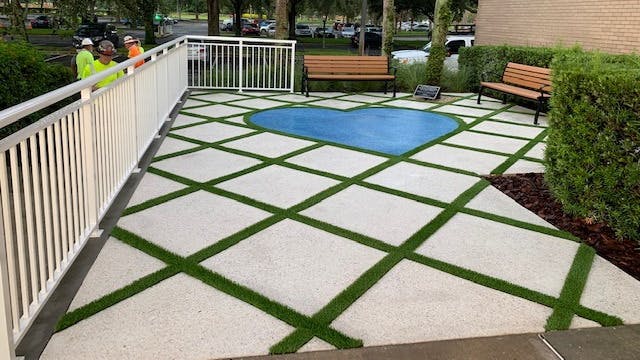 Edwards Concrete Bomanite
"We absolutely appreciate the healthcare workers on the front lines of this pandemic," Edwards says with genuine satisfaction. "This rest area was meant to help them recharge amidst the stresses and challenges of their work. We were fortunate to be considered an essential service in the early stages of the pandemic and wanted to show our support for healthcare workers and our community.
A good cause
Tyler Balch is the second generation owner of Texas Bomanite in Dallas.
"Since the company was founded in 1987, one of our core beliefs has been to give back to the community we serve," Balch says of the company's operational foundation. Texas Bomanite employs nearly 100 people and delivers commercial architectural concrete projects throughout much of Texas from offices in Dallas and Austin. When the company was approached about a small but important polished concrete project for the American Fallen Soldiers Project in Addison, Texas, Balch immediately knew their cause was worthy of charitable consideration.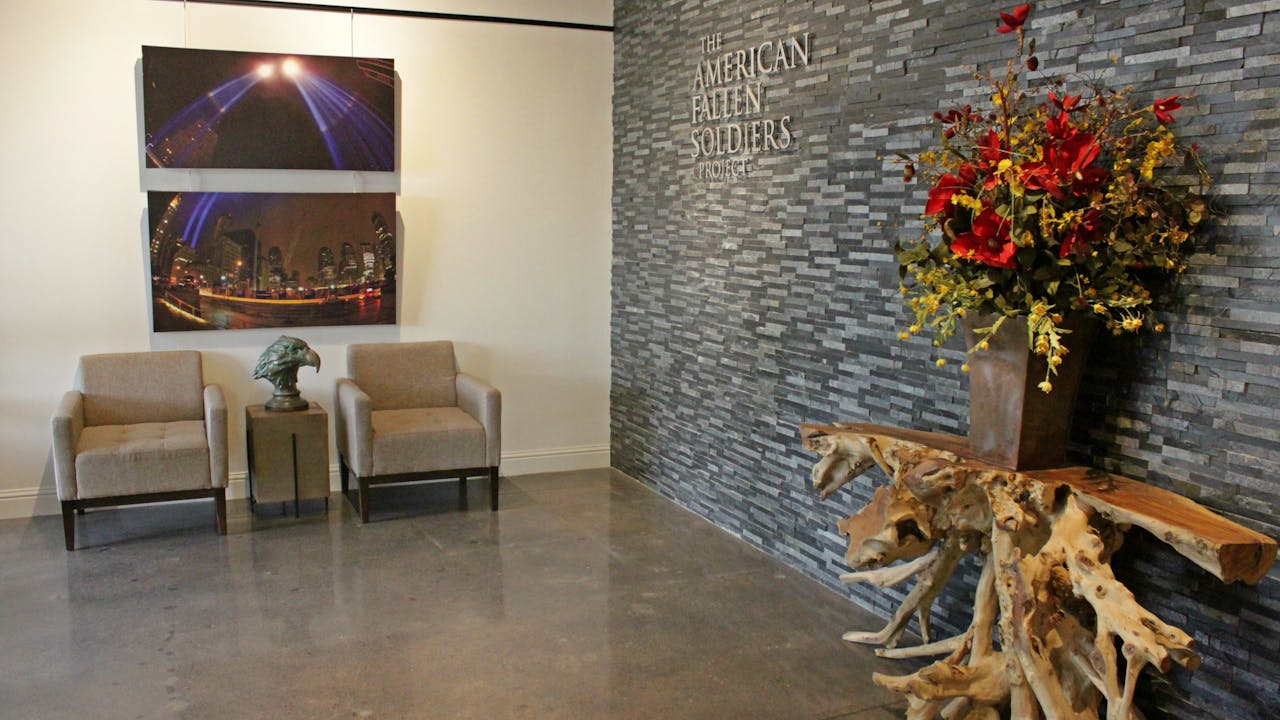 Texas Bomanite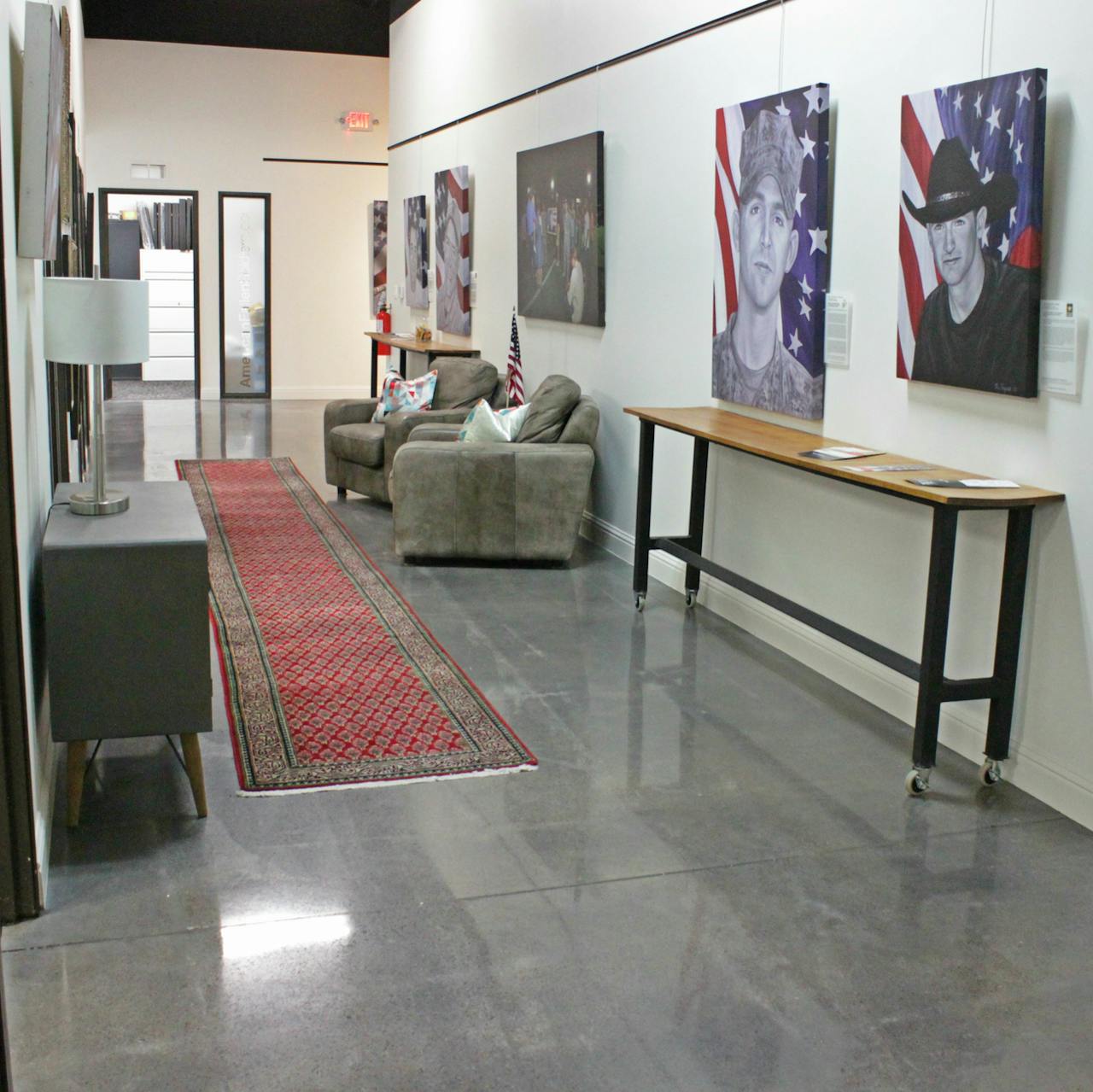 Texas BomaniteA 501c3 non-profit organization, The American Fallen Soldiers Project honors and commemorates American military service members who have made the ultimate sacrifice with an original hand-painted portrait of the fallen that is presented to their family. The brainchild of artist Phil Taylor, each portrait is undertaken to offer Gold Star families a small token of comfort and compassion in their time of loss. When the organization rented new office and gallery space in a suburban office park and inquired about a polished concrete floor, Texas Bomanite decided to do it at a discount.
"They wanted a polished concrete floor with a black orchid stain to give the space a very high-end, museum-quality feel," Balch says of the scope of work. "Due to the condition of the existing concrete slab, the work involved a lot of patching and grinding to prepare the floor for polishing. We thought it was a cause we would be proud to support, so we donated time and materials to the tune of about 28% of the total cost. With Bomanite, you get the best of the best, so making it an affordable option for a very worthy recipient made everyone involved feel fantastic.
Make a dream come true
In Aurora, Colorado, Bomanite Licensed Contractor, Colorado harsh landscapes, supported a wellness project of a different kind. Founded in 1947, Colorado Hardscapes is Front Range Colorado's premier decorative concrete contractor since the industry's inception. When they heard about a local Make-A-Wish Foundation effort to build a sensory garden and playground for a 7-year-old boy, Colorado Hardscapes jumped on board.
"The City of Aurora has partnered with the Make a Wish Foundation and a host of others to develop a fully accessible playground with a sensory focus at Red-Tailed Hawk Park near the child's home. We knew straight away that it was something we wanted to be a part of," says project manager Christy Bol. The child's wish was simply to go to the park to play and laugh with other children and fulfilling this dream was a joy and an honor for everyone involved.
The 8,000-square-foot site features a sensory wall comprised of a tactile composition of shapes, textures, and colors, an undulating boardwalk that undulates like a rollercoaster, and swings, slides, and slides of several kinds. A Bomanite Micro-Top was used to bring out the sensory wall with color, while a Bomanite textured rug added a tactile surface to the rising wall. Bomanite Con-Color has also been used to color concrete to add whimsical touches to flat work surfaces.
Colorado's harsh landscapes
"We donated the materials and labor to complete the undulating step and stained concrete design throughout the park and completed the textured, vibrant seat wall at cost," says Bol. "We were also able to get a donation from our concrete supplier, Aggregate Industries, for all the concrete we installed."
Beyond the gift back, Bol shares that the project called on the artistic abilities of Colorado Hardscapes. "There was only a sketch to begin with, so our team had to get creative in conceptualizing the pieces and pieces of this one-of-a-kind sensory wall."
From functional to fantastical, these projects explore the many exciting and innovative possibilities in the world of decorative concrete while illuminating a common bond between Bomanite's nationwide network of licensed contractors.
"From our perspective, we feel blessed to be part of this great community betterment project," says Bol. "Charitable giving is a great way to give back and show our commitment to the people and places our projects serve in a lasting and meaningful way."