In the wake of the global COVID-19 pandemic, building materials such as steel, a necessary material for use in traditional concrete applications, have been significantly impacted by price increases and material shortages. While this may be of concern for companies and municipalities that are about to begin or are in the process of launching construction projects involving parking lots, roads, bridges and other concrete-related repairs, it may actually be a benefit in disguise as they can now enjoy the short and long term benefits of fiber-reinforced concrete.
The Euclid Chemical Company
Fiber-reinforced concrete is a reinforced concrete mix with randomly oriented fibers. Depending on the project and the environmental impact that may affect the concrete, there is a wide variety of fibers that will specifically meet the needs of your specific project. Some of the fiber types available are as follows.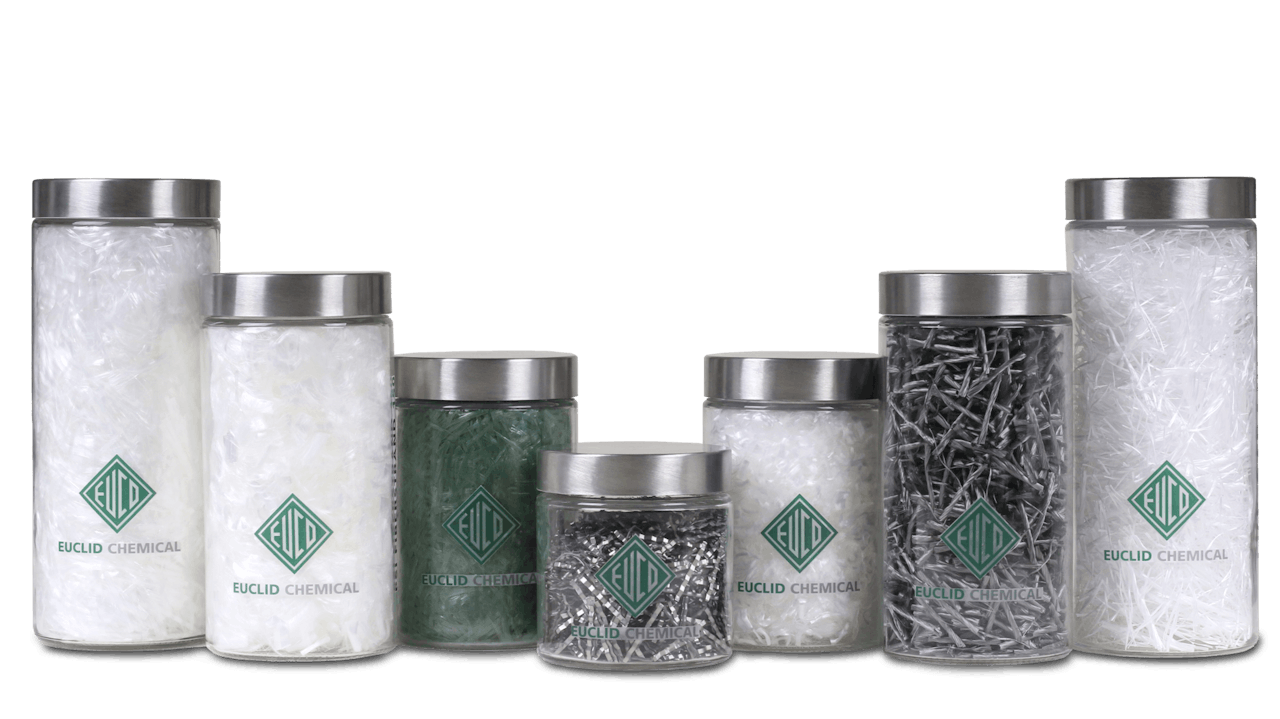 The fibrous products available for concrete reinforcement from Euclid Chemical are PSI Fiberstrand "bundled" fibers, TUF-STRAND macro-synthetic fibers and PSI steel and blended fibers.The Euclid Chemical Company
Synthetic Macrofibers: Used in applications to replace conventional reinforcement for flooring, precast concrete and shotcrete applications.
Steel fibers: typically used to provide concrete with improved post-crack toughness and load-bearing capacity
Steel and Micro/Macro Blends: A combination of steel and/or macro-synthetic fibers with various micro-synthetic fibers that help control plastic shrinkage cracking, while providing toughness and load-bearing capacity improved post-crack
Glass fibers: mainly used in architectural applications and modified cementitious panel structures
Cellulose fibres: a processed wood pulp product used for plastic shrinkage cracking control and mitigation
In recent years, we have seen increased interest in the use of fiber reinforced concrete in concrete pavement applications, such as parking lots, bridge decks and roads. Organizations like the American Concrete Institute, American Concrete Pavement Association, and National Concrete Pavement Technology Center have developed guidelines and recommendations on how to properly select and use fiber in concrete. (Guidelines are available for purchase.)
ACI PRC-544.4-18: Design guide with fiber-reinforced concrete

NCPTC Fiber reinforced concrete for road surfaces
Although it may seem like a new development in construction, fiber-reinforced concrete has actually been around for several decades. However, as municipalities and businesses seek an inexpensive option that will provide durability and the ability to develop cutting edge designs, there has been an increase in the use of fiber reinforced concrete.
Examples of projects that have used fiber-reinforced concrete include SoFi Stadium, home stadium for the Los Angels Rams and Los Angeles Chargers, and freeway rehabilitation in Fowler, Ind.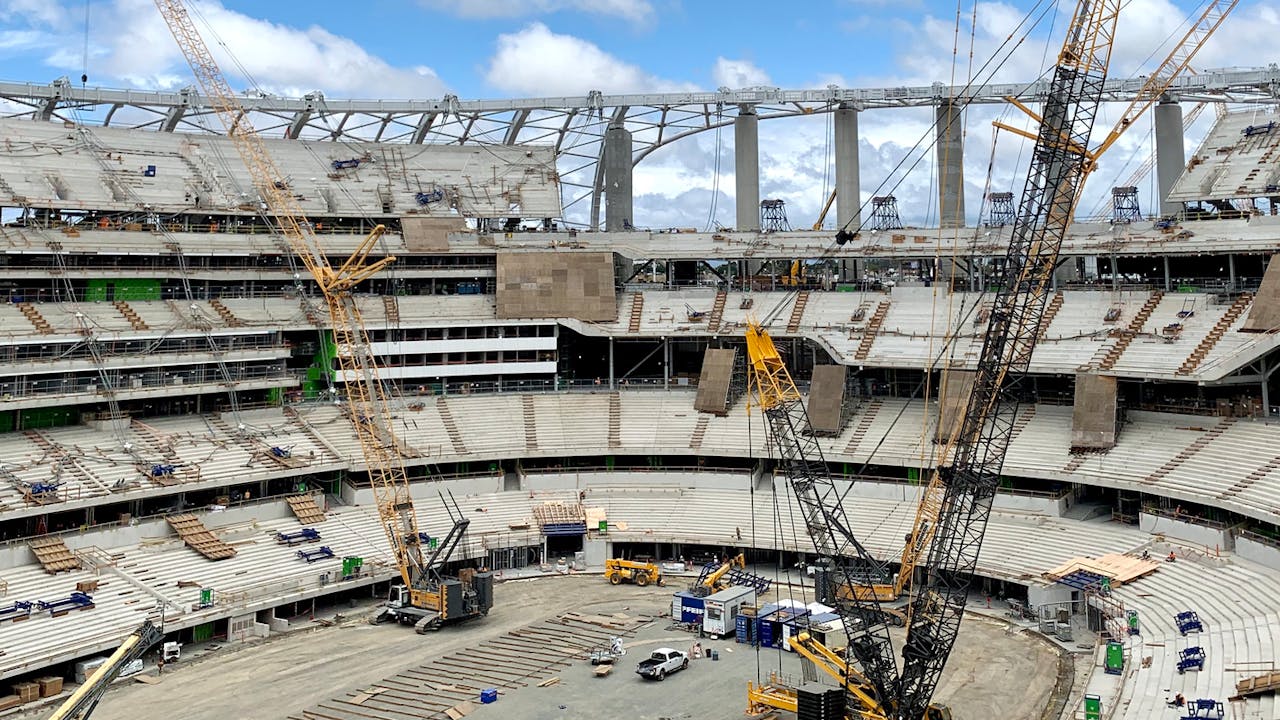 The SoFi Stadium, located in Inglewood, California, was built by a joint venture between general contractor Turner Construction and AECOM Hunt. The concrete contractor was Morley Builders, the architect HKS Inc., engineer Walter P. Moore, and the ready-mixed concrete producer was CalPortland.The Euclid Chemical Company
SoFi Stadium is home to the Los Angeles Rams and Los Angeles Chargers football teams. The stadium can accommodate 70,240 spectators for most events, with the possibility of expanding it with an additional 30,000 seats for larger events. It is located on the former site of the Hollywood Park Racetrack in Inglewood, 3 miles from Los Angeles International Airport. TUF-STRAND SF at a dosage of 5 lb/yd³ (3 kg/m³) was used as reinforcement in the upper deck cover slabs of this facility. These fibre-reinforced tiles, unlike conventionally reinforced tiles, will have no potential for corrosion during the life of this installation. TUF-STRAND SF synthetic macrofiber has also been used to provide better crack control for this finishing tile. Additionally, construction time has been reduced as the use of TUF-STRAND SF has eliminated the time for crane lifting and installation of welded wire mesh or reinforcing steel, and job site safety has improved. been improved by eliminating a potential tripping hazard for the concrete placement crew.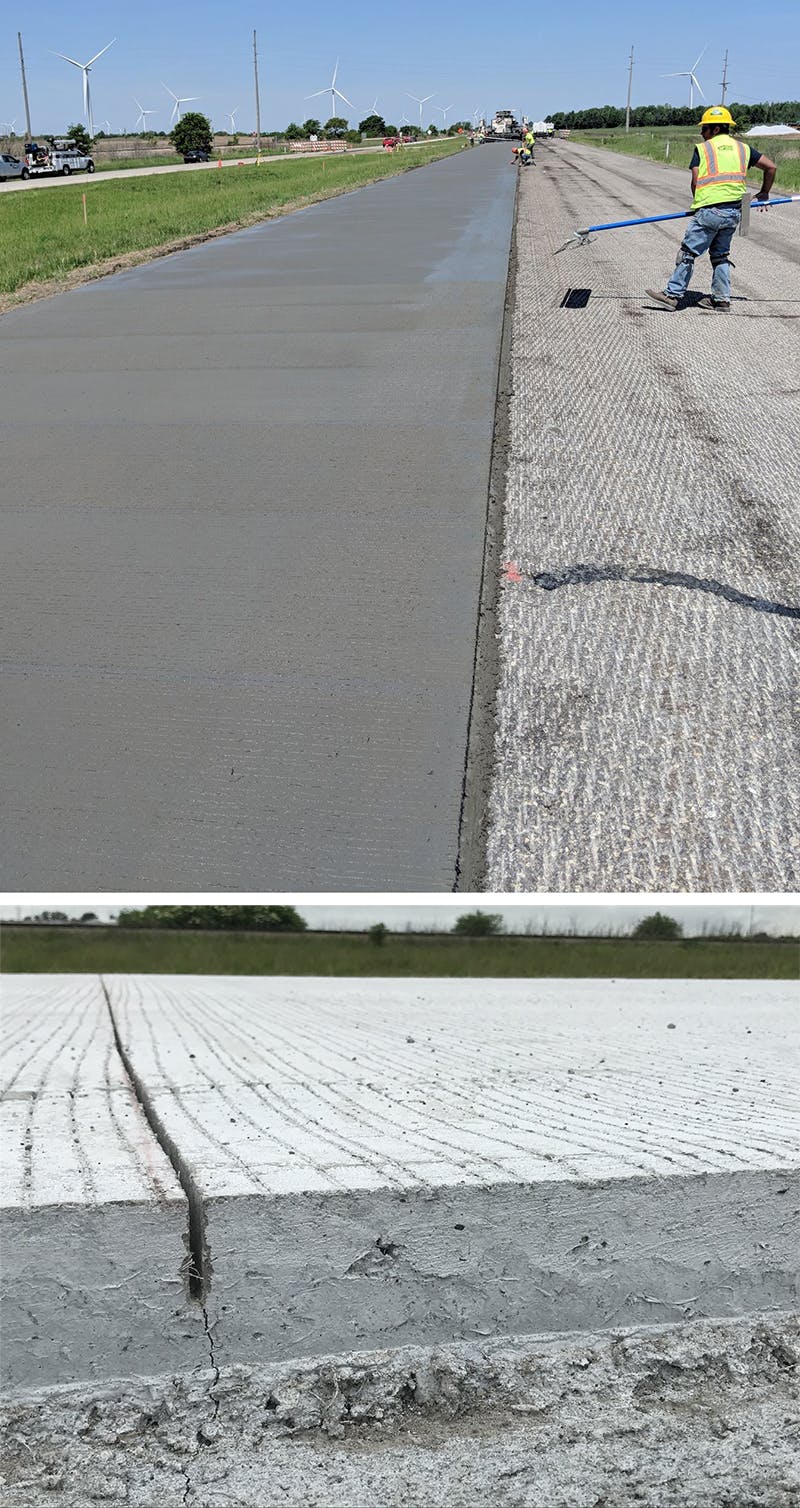 US52 being rehabilitated with fiber concrete.The Euclid Chemical CompanyThe Indiana Department of Transportation (INDOT) also uses fiber reinforcement with thin concrete overlays for highway rehabilitation. Built in 2018, the section of US52 outside of Fowler, Indiana was rehabilitated with a 4 to 4.5 inch. concrete coating using a dose of 4 lb/yd3 (2.4 kg/m3) of TUF-STRAND SF macro-synthetic fiber from Euclid Chemical. This 4-lane highway was previously covered with asphalt and had reached a deteriorated condition that required a long-term solution and improved ride quality. Irving Materials, Inc. serviced this project using a portable twin-shaft mixer located at its local dry batch plant site. This combination of mixers enabled the production of up to 100 yd3 per hour with top construction placing between 500 and 900 yd3 per day. In total, more than 18,500 m3 FRC pavement was placed without the use of studs or reinforcing steel presenting major market potential for future FRC and pavement projects.
Main advantages of using fiber concrete
As you plan your next concrete-related construction project, here are the top seven benefits of fiber-reinforced concrete that you and your clients should consider.
Profitability: According to the National Concrete Pavement Technology Center, "Fiber-reinforced concrete can provide a cost-effective and durable solution for resurfacing and rehabilitation of existing pavements. Whether as overlays or full-depth replacement pavements, state DOTs and other engineering groups are rapidly adopting macro-synthetic fibers in their designs, specifications, and experimental designs for road pavements. roads and airfields.
Less staff required: With the limitations of available labor and cost uncertainties affecting the construction industry in the wake of the pandemic, fiber reinforced concrete can provide a safer and more cost-effective work environment that can actually speed construction while reducing the environmental impact on a construction site. From a safety perspective, having fewer personnel on site and reducing the risk of tripping are significant benefits and allow for faster set-up.
The Euclid Chemical Company
Reduced lead times: By subtracting the use of conventional steel rebar, a steel placement inspection is not required by a municipality. The concrete would be placed with reinforcing fibers supplied by a concrete supplier and set into the concrete prior to the placements. Ready-mix trucks can quickly and efficiently place concrete in the required project location with minimal finishing practices required.
Improved long-term serviceability: Concrete can be susceptible to corrosion, freezing and thawing, attack by traditional road salt and penetration by other aggressive solutions. The durability of concrete can be improved by minimizing the ability of water and other solutions to penetrate beyond the surface. Fiber-reinforced concrete helps maintain tight crack control, which helps reduce the size of a crack's width, ultimately preventing water and other solutions from penetrating the concrete.
Strengthening temperature and shrinkage: Fiber-reinforced concrete can be used as an economically viable alternative to welded metal reinforcement and small diameter bars to guard against temperature and shrinkage issues.
Reduced cost: Fiber reinforced concrete can reduce construction times, reduce labor cost and reduce maintenance costs, which not only benefits contractors, but these savings can then be passed on to customers under form of cost reduction for the completed project. Additionally, contractors can advise that fiber reinforced concrete significantly reduces the cost of routine maintenance.
Ecological: Similar to old tires and athletic shoes recycled for use in synthetic turf sports fields, fiber-reinforced concrete can be an environmentally friendly solution. Since steel fibers are made of steel – which is made from iron, a depleting natural resource – the high cost of steel may not be justified, especially with the cost of maintenance. reduced associated with fiber reinforced concrete. Recycled steel fibers can represent a more environmentally friendly and cost effective approach.
Research has shown that recycled steel fibers, which are made from products such as recycled car tire rims, can provide similar results to commercially produced steel fibers, at a fraction of the cost. cost. In addition to minimizing landfill waste, cost savings from using recycled steel can also be passed on to customers.
While the uncertainties of the COVID-19 pandemic remain, fiber reinforced concrete represents not only the future of the construction industry, but also a viable solution to protect the health and safety of construction personnel, as well as the financial results of businesses and municipalities. .
About the Author
Michael Mahoney is a Professional Engineer and Fiber Reinforced Concrete Technology and Marketing Manager for Euclid Chemical Company in Cleveland, Ohio. He is a Fellow of the American Concrete Institute and has served on various committees of the National Pre-Cast Concrete Association and the American Society for Testing and Materials.